Richland Bombers
Future Class of '63
Spalding Grade School
Sixth Grade ~ Mr. Anderson
Click the picture to see LARGER faces.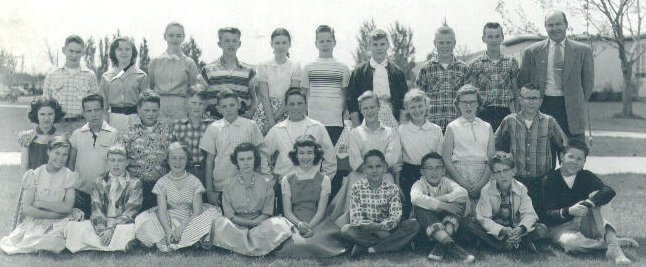 Mr. Anderson's Sixth Grade class - 1956-1957
Picture provided by Donna Bowers

Future class of '63

BACK ROW: 1.DonBrackenbush, 2.DesireeCarey, 3.LeonaNelson, 4.TommyWelsch, 5.PatRediske, 6.DennisCasto, 7.JudyHaws, 8.RalphLee, 9.ChuckGardiner, 10. Mr.Anderson.

MIDDLE ROW: 1.JaleenFussman, 2.JoeyCourtney, 3.NesterWise, 4.EddieStambaugh, 5.AlbertArd, 6.PeteHousley, 7.KayCoffman, 8.SusanPetersen, 9.LeslieHutchinson, 10.ShelleyMcCoy.

FRONT ROW: 1.LynnMeyers, 2.VickiJones, 3.DonnaBowers, 4.MarilynSwan, 5.MargaretSmiley, 6.LeoWebb, 7.RalphPeart, 8.BillBarnes, 9.GregGriffen.




Class of '63 Grade School Pictures






page started: 03/20/03
page updated: 03/19/13
Email the webmaster
63Spa6th-Anderson