Richland Bombers
Future Class of '63
Spalding Grade School
Fourth Grade ~ Miss Faye Jones
Click the picture to see LARGER faces.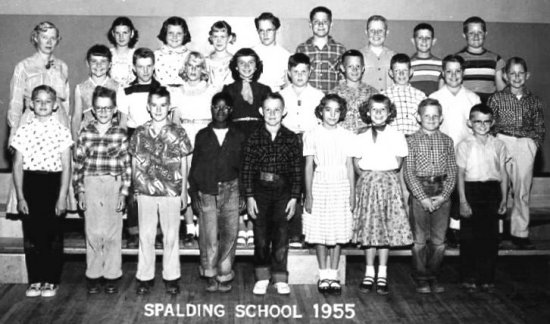 Miss Faye Jones' Fourth Grade class - 1954-1955
Picture provided by Marc Leach

Future class of '63

BACK ROW: 1.PatRediske, 2.LorettaRowe, 3.LeslieHutchinson, 4.CamilleApgar, 5.GaryLeClair, 6.RalphLee, 7.JayWilliamson, 8.BillyLucky.

MIDDLE ROW: 1.MissJones. 2.LindaZeigler, 3.PaulSterling, 4.SuzyRohrbacker, 5.KathyDahlin, 6.JohnnyMoore, 7.JohnEric, 8.LarryStephens, 9.StevenCase, 10.CaseyHammill.

FRONT ROW: 1.MarcLeach, 2.JimBarnes, 3.DonBrackenbush, 4.HowardSavare, 5.JohnDale, 6.LindaBrown, 7.DonnaBowers, 8.MikePease, 9.RickyHardy.




Class of '63 Grade School Pictures






page started: 02/08/99
page updated: 03/20/03
Email the webmaster
63Spa4th-Jones