Future Class of '63
Spalding Grade School
First Grade ~ Mrs. Shank
Click the picture to see LARGER faces.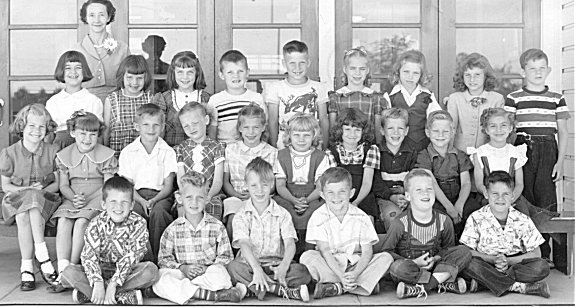 Mrs. Dorothy Shank's First Grade class - 1951-1952
Picture provided by Maren Smyth

Future class of '63

BACK ROW: 1.LindaWaldrep, 2.LorettaRowe, 3.AliceWard, 4.KennethDaer, 5.RonaldShoen, 6.MarenSmyth, 7.LeonaNelson, 8.DonnaCromwell, 9.GregBoyd.

MIDDLE ROW: 1.JuneSmith, 2.DonniseClark, 3.TommyWelch, 4.PatriciaSchneider, 5.SusanSherwood, 6.SharynRoestel, 7.MaryeDurbin, 8.BillBarnes, 9.FreddieSchafer, 10.KayeDavis.

FRONT ROW: 1.JakeClark, 2.JohnPoyner, 3.RichardDeGraw, 4.DarrelParrish, 5.DennisThoennes, 6.KennyPeterson.




Class of '63 Grade School Pictures






Page started: 10/27/98
Last updated: 06/23/06
Email the webmaster
63Spa1st-Shank