Richland Bombers
Future Class of '63
Sacajawea Grade School
Sixth Grade ~ Mr. Edwards
Click on the picture to see LARGER faces.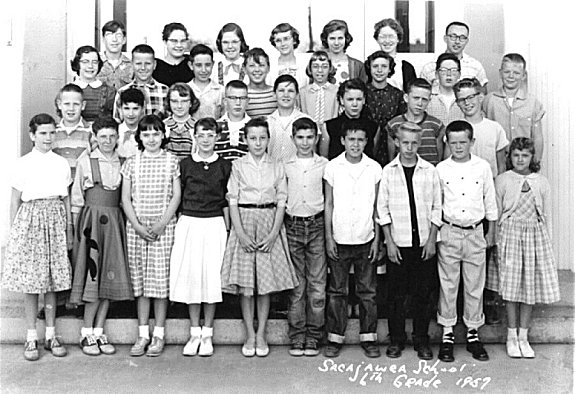 Mr. Edwards' Sixth Grade class - 1956-1957
Picture provided by Chuck Meyer

Future class of '63

BACK ROW: 1.LarryWersen, 2.JudyHarris, 3.RuthAnnBlanton, 4.MarilynSimmons, 5.EllenWiehermiller, 6.DonnaNelson.

THIRD ROW: 1.VerbieMoss, 2.DarrelRenz, 3.DavidJones, 4.ShelbyGreen, 5.DorthyIngram, 6.CarolMcKenzie, 7.PatMcCartney, 8.ChuckMeyer.

SECOND ROW: 1.LaneMerryman, 2.MaryJaneBrady, 3.JeanieHawley, 4.BillHudspeth, 5.RayFisher, 6.PatRice, 7.TomCaraway, 8.MikeQuane.

FRONT ROW: 1.BarbaraEnglund, 2.PattyHagameier, 3.BeverlyWetherald, 4.PennyHall, 5.CarolNorthover, 6.BobMoore, 7.CharlesDavies, 8.JimmyBerglund, 9.MartyWillis, 10.KarenCox.




Class of '63 Grade School Pictures






page started: 10/27/98
page updated: 09/05/01
Email the webmaster
63Sac6th-Edwards