Richland Bombers
Future Class of '63
Sacajawea Grade School
Third Grade ~ Miss Mead
Click the picture to see LARGER faces.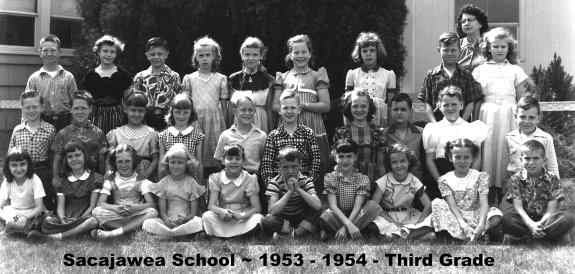 Picture provided by Dick Swanson

Future class of '63

BACK ROW: 1.LarryBlum, 2.CarolMcKenzie, 3.AllenThompson, 4.CarolynNacke, 5.RuthWinsor, 6.JudyHarris, 7.KayBenjaman 8.DarrelRenz, 9.DonnaNorwood.

MIDDLE ROW: 1.TomCaroway, 2.GaryGilmour, 3.SusanWildenborg, 4.JeannieHawley, 5.DickSwanson, 6.LaneMerryman, 7.ValRhodes, 8.DennisTimpson?, 9.ConnieSarama, 9.RuthAnnBlanton, 10.RickIrish.

SITTING: 1.LeomaColes, 2.MaryPaseka, 3.PattyHagemeier, 4.AnitaCleaver, 5.MaryAnderson, 6.PaulKeifer, 7.MaryJaneBrady, 8.SandraJenkins, 9.CarolNorthover, 10.RobertMoore.




Class of '63 Grade School Pictures







page started: 10/27/98
page updated: 11/19/00
site maintenance