Richland Bombers
Future Class of '63
Marcus Whitman Grade School
Fourth Grade ~ Mrs. Jones
Click on the picture to see LARGER faces.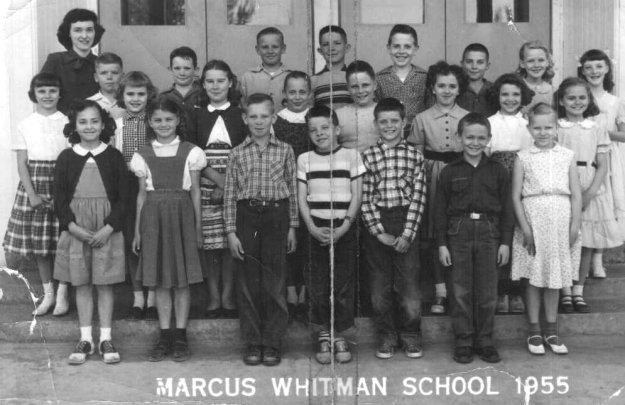 Picture provided by Betty Noble

Future class of '63

BEHIND THE BACK ROW: Mrs. Jones

BACK ROW: 1.TerryMatheney, 2.CappyHaines, 3.EricHatilla(sp?), 4.CharlesKizer, 5.RickIrish, 6.LawrenceHetrick, 7.SusanPeterson, 8.JeanneTurner.

MIDDLE ROW: 1.JudyPfohl, 2.RosemaryQualheim, 3.JudyWilson, 4.BarbaraMeyer, 5.ErrolRoberts, 6.KatherineAndres, 7.FrancesOathes, 8.SherryMcLoughlin.

FRONT ROW: 1.DianeGrunwald, 2.PattyKeeney, 3.MyronHenke, 4.DannyHooper, 5.DavidNewton, 6.LloydWest, 7.BettyNoble.

E-mail me with if you can tell me about "(SP?)".




Class of '63 Grade School Pictures






page started: 07/06/02
page updated: 07/06/02
Email the webmaster
63MW4th-Jones