Future Class of '63
Marcus Whitman Grade School
Fourth Grade ~ Mrs. Anderson
Click on the picture to see LARGER faces.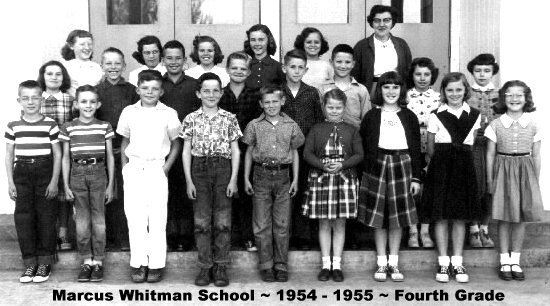 Picture provided by Leland Upson

Future class of '63

BACK ROW: 1.MargaretScott, 2.MaureenSmith, 3.SandraWeaver, 4.LanaWatkins, 5.JaniceSorbel.

MIDDLE ROW: 1.EvaLynnSteele, 2.DavidSchulz, 3.JonBurnley, 4.MikeLahrman, 5.RossPetersen, 6.GeorgeSharp, 7.SusanShaver, 8.LornaUrseth.

FRONT ROW: 1.LelandUpson, 2.DavidMallory, 3.ClayMcBain, 4.SteveTibbals, 5.DarrellLathrop, 6.MarilynThorp, 7.JoanWilson, 8.SandraRiggins, 9.SherriWard.




Class of '63 Grade School Pictures






page started: 06/12/99
page updated: 07/06/02
Email the webmaster63MW4th-Anderson