Richland bombers
Future Class of '63
Lewis & Clark Grade School
Fifth Grade ~ Mrs. Brinkman
Click on the picture to see LARGER faces.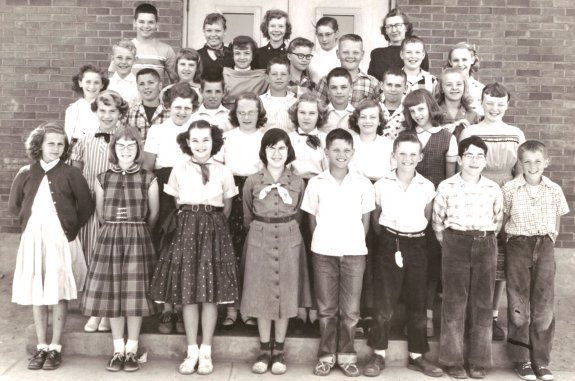 Mrs. Brinkman's Fifth Grade class - 1955-1956
Picture provided by Linda Walden

Future class of '63

BACK ROW: 1.JerryKern, 2.LindaWalden, 3.LindaRislov, 4.BarbaraArlington(?), 5.Mrs.AlineBrinkman.

FOURTH ROW: 1.BrockErickson, 2.AnnLouiseAlbertowicz, 3.SandraBuck, 4.RitaKayKnutson, 5.JimMaulsby, 6.WilliamWilson, 7.CarolMoore.

THIRD ROW: 1.SylviaSchwendeman, 2.DickPlows, 3.PaulHirst, 4.David"Pook"Smith, 5.JimmyHamilton, 6.DeweySkaggs, 7.DollyKoshman.

SECOND ROW: 1.SusanKonecny, 2.CarlaStine, 3.LindaLatendresse, 4.SharonDenny, 5.LilaMayJenne, 6.SandraWork, 7.JanRood.

FRONT ROW: 1.JaneNelson, 2.BonnieHertz, 3.MarciaLund, 4.MaryMargaretCollins, 5.JerryTaylor, 6.BobbyHyatt, 7.MikeSchoonover, 8.David Rasmussen.

E-mail the webmaster if you can clarify the question mark in the back row.




Class of '63 Grade School Pictures







page started: 02/19/00
page updated: 09/02/01
Email the webmaster
63LC5th-Brinkman