Richland Bombers
Future Class of '63
Lewis & Clark Grade School
Fourth Grade ~ Mrs. Roppe
Click on the picture to see LARGER faces.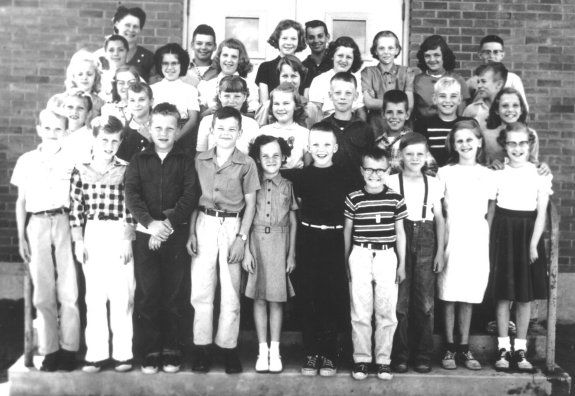 Mrs. Roppe's Fourth Grade class - 1954-1955
Picture provided by Judy Shibly

Future class of '63

BACK ROW: 1. JerryKern, 2.LindaJoRislov, 3.BillyLaBlanc.

FOURTH ROW: 1.DickPlows, 2.MaryMargaretCollins, 3.AnnAlbertowitz, 4.CarlaStein, 5.JaniceMcCauley, 6.SandraBuck, 7.LarryFrymier.

THIRD ROW: 1.DollyKoshman, 2.BonnieHurst, 3.JoanArmstrong, 4.BobCottrill.

SECOND ROW: 1.CarlDean, 2.BetteKayWittig, 3.LindaArmstrong, 4.SharonDenny, 5.BillyFranklin, 6.PaulHirst, 7.RichardFlora, 8.MaryAnnWeiland.

FRONT ROW: 1.MikeHughes, 2.MikeColwell, 3.PaulVassar, 4.DeanWoodburn, 5.JudyShibly, 6.BillHyatt, 7.FreddieMorris, 8.RanceJones, 9.JaneNelson, 10.DianeHill.




Class of '63 Grade School Pictures







page started: 1k0/27/98
page updated: 09/01/01
Email the webmaster
63LC4th-Roppe