Richland Bombers
Future Class of '63
Jefferson Grade School
Sixth Grade ~ Mr. Wright
Click the picture to see LARGER faces.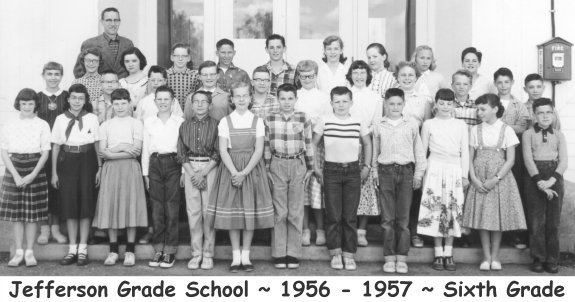 Picture provided by Ann McCue
"Larger view" provided by Lynn Johnson

Future class of '63

BACK ROW: 1.SallyRees, 2.KathyO'Neill, 3.JohnGower, 4.RonnieShoen, 5.DaveSimpson, 6.SherryCox, 7.PattyGabel, 8.BetsyJones, 9.PaulAnderson.

MIDDLE ROW: 1.PattiSchier, 2.BillyHougsey, 3.KathyRathvon, 4.AnnMcCue, 5.CharlesBerkey, 6.MaryLouWatkins, 7.CecilePhillips, 8.KathySmith, 9.PhilArmstrong, 10.JohnWarner, 11.TonySharpe.

FRONT ROW: 1.KathyCollier, 2.KarenKleinpeter, 3.MaryJaneStoakes, 4.LarryHope, 5.BobMathis, 6.LynnJohnson, 7.RayKelly, 8.EdBarrett, 9.KeithBissell, 10.DianneKornberg, 11.ConnieFoster, 12.PeterBaugher.




Class of '63 Grade School Pictures







page started: 11/20/98
page updated: 07/27/00
site maintenance