Future Class of '63
Jefferson Grade School
Fifth Grade ~ Miss Bowman
Click the picture to see LARGER faces.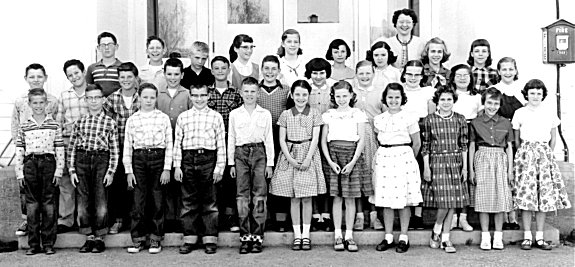 Miss Bowman's Fifth Grade class - 1955-1956
Picture provided by Linda Belliston

Future class of '63

BACK ROW: 1.DaveSimpson, 2.RonnieShoen, 3.JoeCastleberry(?), 4.BetsyFox, 5.SheralynCox, 6.NatalieStuart, 7.KathyO'Neil, 8.PattiSchier, 9.MaryFinch.

MIDDLE ROW: 1.FrankieAbodells, 2.ScottHouston, 3.BradMosteller, 4.KentPeterson, 5.PatO'Roarke, 6.FrostyBerg, 7.KaySittig, 8.AnnMcCue, 9.JaneSimmons, 10.AdelePaulsen, 11.CarolynRoe.

FRONT ROW: 1.PaulAbrams, 2.CharlesBerkey, 3.RobHills, 4.BillyHougsey, 5.LarryHope, 6.DianeKornberg, 7.LindaBelliston, 8.JudithGerman, 9.LynnBrake, 10.MichelleMeeker, 11.KathyCollier.




Class of '63 Grade School Pictures







Page started: November 1, 1998
Last update: December 13, 1999
site maintenance

This web page is hosted by
Get your own FREE Home Page