Richland Bombers
Future Class of '63
Jefferson Grade School
Fourth Grade ~ Mrs. Bresina
Click the picture to see LARGER faces.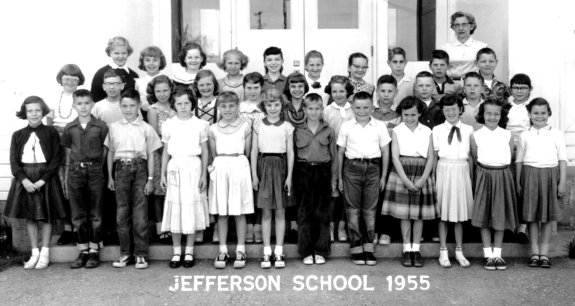 Mrs. Bresina's Fourth Grade class - 1954-1955
Picture provided by Linda Belliston

Future class of '63

BACK ROW: 1.BetsyFuller, 2.MargieNeeley, 3.PatGabel, 4.BetsyJones, 5.KathyMcMahon, 6.CarolynRoe, 7.GailBorup, 8.SteveCooper, 9.BradMosteller, 10.FrankieAbodells(?).

MIDDLE ROW: 1.MarianneMatthews, 2.CharlesBerkey, 3.LindaBelliston, 4.AnnMcCue, 5.MaryFinch-OR-KarenDarby, 6.LorenDavis, 7.SusieWoodfield, 8.ChetLaBorde, 9.RobHills, 10.GaryNance, 11.KaronKelly.

FRONT ROW: 1.MaryJaneStokes, 2.PhilCrews, 3.KeithBissell, 4.MaryEllenDonahue, 5.LeslieJensen, 6.MargoWoods, 7.PaulAbrams, 8.JimArmstrong, 9.ConnieFoster, 10.DeeAnnBecker, 11.MichelleMeeker, 12.FayAppleby.




Class of '63 Grade School Pictures




page started: 11/01/98
page updated: 11/23/01
Email the webmaster
63Jeff4th-Bresina